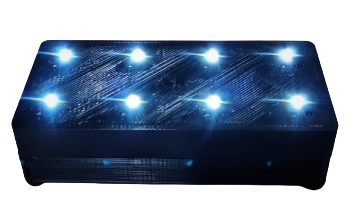 Send this to a friend
Para- Shadow Tracker
Product details
Para-Shadow Tracker
Paranormal Electronics Ltd are very proud to present our exclusive and made by ourselves Shadow Tracer/Tracker.
We have designed our own boards, printed our own cases and made this a very sought after item for everyone's Ghost Hunting Equipment collection.
Features
Lightweight
Compact
8 light modes
4 intensity modes
powered by 2 18650 batteries
Made exclusively by us
very durable
L:15cm W: 7.5cm H:3.7cm
Modes:
 Light up and fade average time
 Light up and slow fade
Fast light up and instant fade
Fast light up and wave fade
Twinkle light up and average fade
Light up for duration of detection and fade at same rate
Already illuminated and turn off with detection
 Instant light up with slow fade
Adjusted by single pressing the middle button and selecting your preference (see video for reference)
Intensity
4 Mode intensity means you can adjust the detection distance from close to around 20 cm away. Easily 
Adjusted by holding middle button and selecting your preference 
 (see video for reference)
Product reviews
6 reviews
Amazing product. Delivered within 2 working days and works perfectly Team were very helpful
I absolutely love the para- shadow tracker. I use it everywhere i go on my investigations. It would be great to have a couple to set up a hallway so anything crossing rooms to rooms would caught for great evidence. I also give this a 5
Really happy with the purchase of the Paranormal shadow tracker, fast delivery, fantastic service, great quality made item cant wait until lockdown over to get back out there and put this to the test. 8 different modes all with own unique settings that you select to your desire :)
Ordered the para-shadow tracker on the release date and it arrived the next day! Lovely looking device, that's light and compact making it easy to carry round. Love that there's 8 different light settings so you can find one that's most suitable for you along with also choosing one of 4 modes for it's reach. Great little bit of kit, and I can't wait to test it further!
I had the shadow chaser arrive, very quick next day, that was fantastic. The shadow chaser did what it said on the tin, the lights was bright and the item was compact in a neat and very tidy box, it looks proffetional, and easyc to carry around, I would recommend this item from paranormal electrics. Get your soon before there gone from the founder of Agrparanormal & Ghost Research Team.