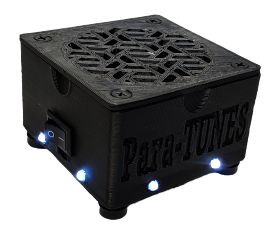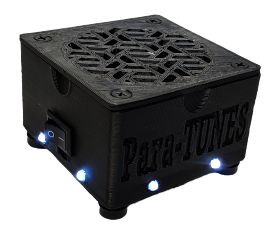 Send this to a friend
Para-Tunes
Product details
Para-Tunes
Welcome to the next generation of motion activated sensor!!!!!!
We are very proud to present our brand new exclusively built by use next generation Para-Tunes. The Para-Tune is a motion activated sensor that is super light and has a very long range.
Powered by its own internal battery pack and charged via Micro usb like many of the products we build ourselves, this mean no buying endless batteries and throwing money away.
What does the Para-Tunes do?
The Para-Tunes will activate the Lullaby tune and the 8 LEDs when something disrupts the field it generates. 
What Makes it Different to others?
This is a first in the paranormal world as this is total digital rather than the chunky analogue versions seen previously on the market, Also the sensor used to detect the motion is totally enclosed which does not need to actually see the object that has broken its field which is different to the conventional PIR sensors seen on most movement devices. 
Main Features
360 degree motion field
Plays a Lullaby Tune
Loud Speaker
very long range
Internal battery pack with Micro USB Charging
Light Weight (186g)
8 LEDs for visual awareness
easy to store
L:84mm W:84mm H:53mm
Team name printed on Product (£4.99 extra)*
*Please Note that when choosing this option It will take up to a further 48 hours for the product to be ready for dispatch. Please double the name entered into the box is correct as once this has been submitted then it is subject to our personalisation section of our refund policy
**As we 3D print some items right here at Paranormal Electronics Ltd. Each Item is made with great care by hand. As such, each one may have unique elements in the texture that could appear to be small defects. These unique elements do not affect the function of the product. Although we do our best to keep items exactly the same as possible, each one will be unique in some small way since they are each printed and hand-built for quality. Thanks for your understanding.
*** We can now paint your Para-Tunes Gold or Silver*****
Product reviews
6 reviews
Great little device. Shipped to NZ no problems. It's super sensitive also so put it a good distance from you. Absolutely love it!
Took the Paratunes with me to Whitby and it was going crazy up at the abbey ! Love this piece of equipment
Excellently built solid construction light but sturdy, great to look at and hoping for many great results when out investigating.
Brought this product looks good easy to use and does the job also good to have your logo on the device. Also its good that you can recharge the unit so no batteries needed Would highly recommend this product
Last night I set the Para Tunes on, on the landing, after fully charging it, and immediately went to bed, time 23:35 At 01:30 I was awoken by the Para Tunes, but it played just once, so I went back to sleep. Then at 02:30 it went once again, was silent, then started and kept playing on and off from 02:50 till 02:55, so I got up. All was silent as I got dressed, but did react as soon as I opened the door. Once downstairs (I had left the Para Tunes switched on) I heard the front bedroom door open, and the Para Tunes started playing again (I live alone except for my dog and cat), so "Joe" was interested in what I was up to (Joe was the previous owner, who fell down the stairs, broke his neck, and died!!). So all I can say is, it's a fantastic bit of kit, covers around 8 metres squared in my house, so ideal for landings and hallways or basements with lots of doors, which you wish to cover, GET ONE !! If you only want to cover a VERY SMALL space, or singular doorway, then the Para Rem Pod is a better choice , and I have one of those on order too, and for even smaller spaces than that, there is the Para Pod, Para Coffin, PIR Alarm, Trip Sensor? Etc. For covering a length of hallway or room (ideal on a landing under the attic trap door) is the Para Shadow Tracker. What would be nice, would be a choice of tunes, then you could have several, placed in different rooms or hallways, and by sound alone you could tell which one had triggered.
Highly recommend this product, it's been a great addition to our kit. Used it once so far, it went off twice in an empty room of a ruined castle and our k2 meters in the opposite room went off at the same time...strange.